One of our favourite things at Lintel Trust is receiving feedback from the projects we support. As a charity with limited funds, our Board make difficult decisions when deciding which projects to support. It makes everything worthwhile when we get to see the positive results achieved by the projects we fund.

We received an application for funding to help the Disabled Persons Housing Service(DPHS) in Aberdeen offer specialised housing support to veterans. We have supported DPHS on a number of occasions and their reputation for meeting the individual needs of clients and their families is impressive.
It is widely accepted that veterans and their families face some quite unique challenges, particularly when left with a disability to adapt to. Lintel Trust was delighted to award £2000 to this valuable project to help them achieve their funding target. They succeeded and shared some wonderful feedback allowing us to see what a big difference the relatively small grant award was able to make.
The aim of Veterans Voice project was to provide housing options advice and advocacy to disabled veterans and their families in and around Aberdeen. All families need a suitable home to thrive and adding a disability into the mix can make finding one very difficult. Adaptations can be made to accomodate disabilities and enable independent living. The benefits to the client and their family are priceless. Losing independence is one of the hardest things for anyone to adjust to. Gaining it back allows the client to feel more in control of their own lives and for family life to continue.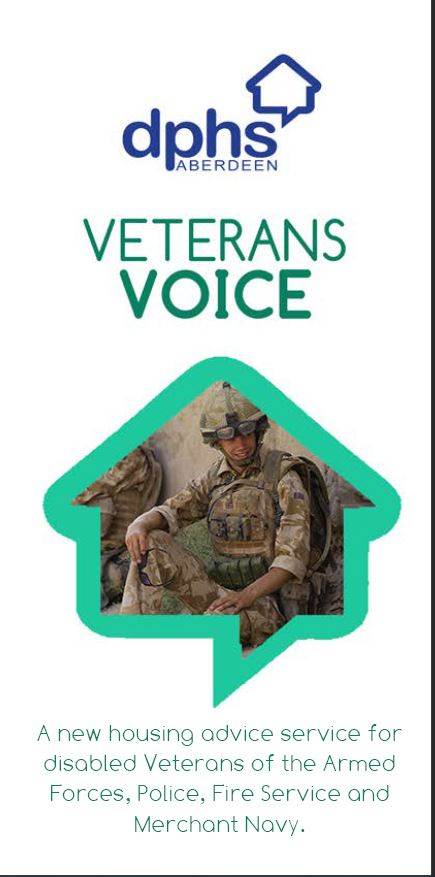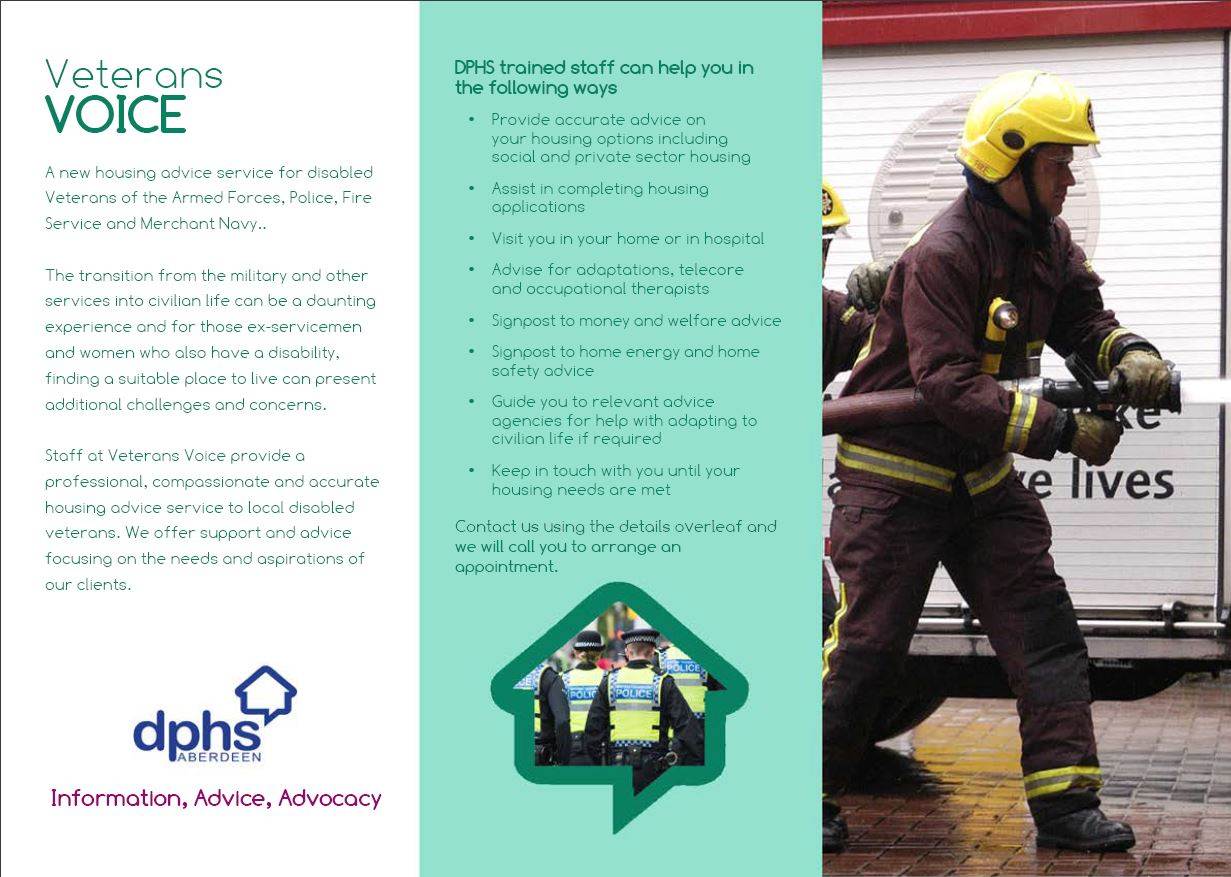 The client group included disabled veterans of the Armed Forces, Police, Fire Service and Merchant Navy and their aim was to assist 20 veterans in a 12-month period.
In fact, DPHS Advisers exceeded their target and met with 25 veterans and their families either in their homes or in a hospital location. Advice given included options on social renting, private renting and home ownership including shared equity schemes.
Of those helped,14 families have moved on to more suitable accommodation or had adaptations carried out to existing properties as a result of Veterans Voice's intervention and assistance!
The remaining clients continue to receive support until a positive solution is found for their housing needs. They can rest assured that they are in safe hands and that DPHS will work closely with partners to ensure that a suitable home is found for them.
This case study provides an insight into the work undertaken by Veteran Voices:
Mr M was referred to DPHS by his OT as his current property could not be adapted to meet his health and disability needs. He was having difficulties accessing his property and the bathroom was unsuitable and he relied heavily on his wife and family for support. He was visited at home by a DPHS Housing Adviser. Mr M is a Gordon Highlander veteran and was one of the first clients to be assisted by DPHS under the Veterans Voice project. The DPHS Adviser chatted about the housing options available to the family and then completed housing applications for Aberdeen City Council and another 4 social housing landlords in the City. DPHS has close links with the Scottish Veterans Garden City Association (SVGCA) who has properties in Aberdeen which are only available to disabled veterans therefore a housing application was also completed on behalf of Mr M and his family. A few weeks later a suitable veterans property became available in Aberdeen and Mr M was put forward as a possible tenant for it. SVGCA invited Mr M and his family to view the property and the DPHS Housing Adviser went along too. Mr M was offered the property that day and moved in 2 weeks later. The family are delighted with their new home and extremely grateful to DPHS for their assistance.
A few months later DPHS went along to visit the family to find they had completely redecorated the property and are very happy.
Please see pictures above of their beautiful home and how they have made it their own (Mrs M stars in one photo).
Well done to the Veterans Voice project and good luck to all the families awaiting their own housing happy ending.