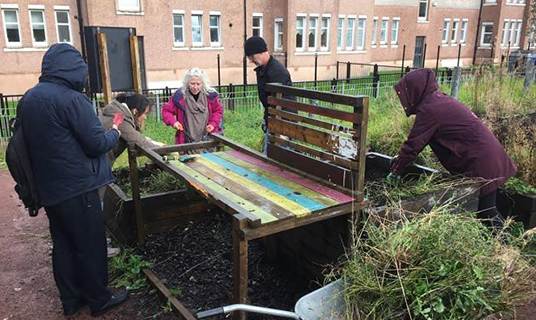 A community group in Glasgow has been praised for its pioneering commitment to support people with disabilities by planning the city's first openly accessible activity space.
Hawthorn Housing Co-operative [HHC] believes that its new outdoor play and fitness equipment plan would provide
a massive boost to families in its community in Possilpark.
The project is the brainchild of the Hawthorn Community Action Group, a sub-group of HHC which is made up of diverse local community activists intent on developing local green spaces and improving well-being.
Lintel Trust donated £10,000 through the Scottish Procurement Alliance's innovative Community Benefit Fund which has allowed the HHC to progress activities and developments which they could not otherwise afford. Lintel has been providing a fund management service to SPA for the past four years and almost £500k has been distributed across Scotland since 2017.
Glasgow Disability Alliance, a disabled people-led organisation, has confirmed that the plan would provide a welcome step forward in making parks and green spaces accessible to all.
Director of HHC, Colin Turnbull, said: "The SPA and Lintel Trust donation makes a massive difference to our community and the quality of their lives. Our community action group was formed as a result of the continued investment from Lintel Trust in recent years and the local people have been best placed to decide on where the grant should be utilised. It has resulted in greater social value and an increased quality of life in the area.
"One of our tenants has a son who uses a wheelchair, and she raised the issue with the action group about lack of disabled friendly play equipment. We have since learned from the Glasgow Disability Alliance that there is a real need for more accessible play equipment in Glasgow's parks.
"The Group then decided to apply for further funding to incorporate outdoor fitness equipment as well so we could safeguard the health and well-being of both children and adults. The grant has been a tremendous help to us over the years, and will continue to play an important part in the development of our community."
Community Development Coordinator of the GDA, Ruth Hart, said: "It is hugely important that disabled people of all ages can access and enjoy our parks and green spaces. We met with HHC to share our experience of a project to install accessible play equipment in a Glasgow park which had been stalled due to Covid. HHC's commitment to including disabled people's experiences and access needs from the beginning of their project is a great example for other community groups and organisations."