Football and Freezing Conditions Didn't Stop Us

Headliners MacBlondie showing how it is done
The Great Big Lintel 70s and 80s Extravaganza was held at the Ferry, Anderston Quay, Glasgow on Thursday 15th February on a very cold, very wet, very windy night. The fact that Celtic was playing in the UEFA Europa League led to a unexpected drop in numbers but certainly not a drop in enthusiasm and a great night was had by all. Over £2,000 was raised on the night and will go Lintel Trust's General Grant fund for projects across Scotland.
Lintel Trust has would like to say a huge thank you to all of the musicians involved, especially Alasdair McKee, CE of Glenoaks HA, who has been the driving force behind the Great Big Lintel nights, as well as performing, alongside his wife Diane (Debbie!) in MacBlondie.
"I'm delighted to have worked alongside Kate Christie from the Lintel Trust to have been involved as the co-organiser of another successful Lintel Trust music night at The Ferry. There is so much hidden musical talent in the housing association sector and it was great that we had performers from many housing association's on stage, alongside their equally talented band and choir members. Over the years we've also featured some of Scotland's top tribute acts at the event including the Sensational David Bowie Tribute Band. 3 years ago we even had a band from Manchester travel up to headline the event, The Tomahawks, featuring the late Tom Manion who had been the Chief Executive of Irwell Valley HA. The music night is very popular and enjoyed by everyone who attends whilst also raising much needed cash for the excellent Lintel Trust."
Alasdair McKee, Chief Executive, Glen Oaks HA
This was the latest in a number of Great Big Lintel music events featuring some of Scottish Housing's finest musical talent. With bands volunteering their time, Lintel Trust was privileged to have a great line up all playing a variety of 70s, 80s and even a few 90s hits.

AChoired Taste, including staff from Linstone HA and Williamsburgh HA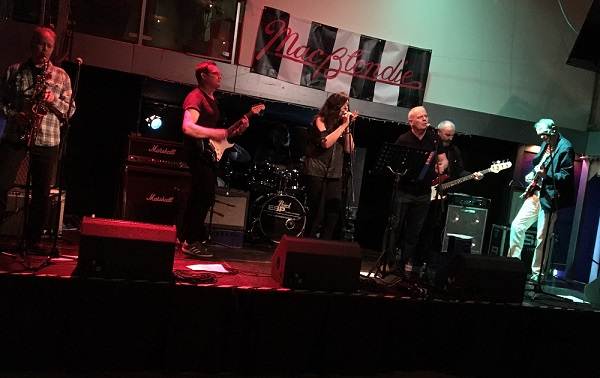 The Regenerators, starring musicians from Queens Cross HA, Caledonia HA, Govanhill HA and guest drummer from Link HA

Aye Candy including staff from Maryhill HA and Wheatley Group
"It never fails to amaze me when I see and hear the talent we have in our housing associations. Housing professionals by day and seriously cool musicians by night! I love that element of surprise when some one gets up on stage and then blows you away with how good they are. The fact that these bands are willing to give their time to raise money for Lintel Trust is wonderful and we cannot thank them enough. A big thanks also goes out to our sponsors - SFHA, Link Group, ARM Architects, Queens Cross HA and Glenoaks HA"
Kate Christie, Senior Business Development Officer, Lintel Trust
If you would like to get involved in future fundraising events, or would like to raise some money for Lintel Trust, please get in touch with Kate Christie on kate.christie@linteltrust.org.uk