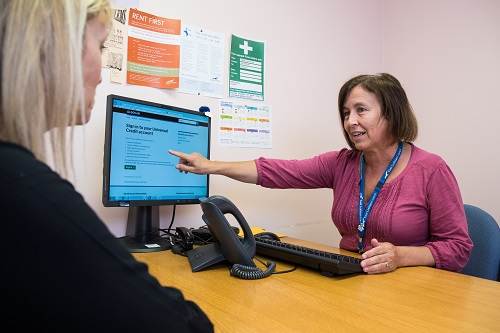 Council tenants will be able to improve their basic digital skills thanks to a £10,000 funding award.

East Lothian Council has been awarded £10,000 from the Scottish Procurement Alliance (SPA) Community Benefit Fund. Awarded on behalf of the SPA by Scottish housing charity Lintel Trust, this funding will be used to deliver training sessions that will help tenants develop their digital skills and gain confidence in using computers.

Councillor Jim Goodfellow, Cabinet Spokesperson for Housing and Community Wellbeing, said:
"East Lothian is the first area in Scotland to experience the roll out of the Full Service of Universal Credit, which requires applicants to apply for benefits online and keep an on-line ledger regularly updated. It's crucial that tenants know how to do this so that they can access the help that they need and don't get into financial difficulties and rent arrears. This money will be used to deliver computing training sessions so that tenants feel confident in accessing online services. We're also keen to support our older tenants in gaining confidence so that they can enjoy the benefits that the internet can provide and not miss out."
Lintel Trust has been appointed to manage a Community Benefit Fund of up to £300,000 on behalf of Scottish Procurement Alliance. The SPA Community Benefit Fund is accumulated from procurement efficiencies generated by SPA partners from the collaborative procurement of construction and refurbishment works to social housing stock. Up to £300,000 will be invested in Scottish communities through Founder Partner referrals over the next two years.
Clive Feeney, SPA Chief Officer commented:
"We are delighted that SPA's Partner, East Lothian Council, have utilised their share of the SPA Community Benefit Fund to help tenants develop their digital skills and gain confidence in using computers. It demonstrates how the Fund can be effectively used to help the communities we work in."
Lintel Trust has awarded £75,000 of the Community Benefit Fund to date to a variety of projects enhancing Scottish communities. Keep an eye on our website for updates on some of the other projects.